Become a VIP
Receive updates on special events, new menu items, menu reviews, and more!
Lunch & Dinner
Salads
Note: Junkyard veggies are picked daily & grown locally. Tony & I visit the fields regularly in Ojai & Oxnard. It's important to feel good about what you eat.
Pizza & Calzones
You Pick The Sauce
Best In The World Red, Rich Creamy Alfredo, Garlic Aioli, or No Sauce
You Pick Your Toppings
Pepperoni, Sausage, Ham, Bacon, Ground Beef, Chicken, Sliced Meatballs, Olives, Roasted Bell Pepper, Spinach, Onion, Mushrooms, Tomato, Egg Plant, Fresh Garlic, Fresh Basil, Artichoke, Green Chili, Anchovie
Personal $1.50 ea
Large $2.50 ea
Calzone $2.00 ea
You Pick "After" Oven Toppings
Caesar Salad, Sour Cream, Capers
Personal $1.50 ea
Large $2.50 ea
(Not Available For Calzone)
Extra Toppings
Fried Calamari, Killer Mac n Cheese, Crash n Burn Chili
Personal $3.00 ea
Large $6.00 ea
Calzone $5 ea
Hand Crafted Personal Pizza $10
Hand Crafted Large Pizza $15
Hand Crafted Calzone $11
Junkyard Specialty Pizzas & Calzones
Sandwiches
I said; SANDWICHES
Burgers
All burgers come with fries or chips. Instead of fries or chips - order mac n cheese
Burger Add-Ons
Real Cheese
Single $1 | Double $2 | Triple $2.75
Swiss, Jack, Pepperjack, Cheddar, American, Mozzarella, Blue Cheese, Provolone
Extras
Single $2 | Double $4 | Triple $6
Smoky Bacon (2), Crash 'n Burn Chili, Green Chili, Sauteed Mushrooms, Cole Slaw, Fresh Spinach
1/2 Avocado $2.50
Naturals
"Free"
Lettuce, Tomato, Red Onion, Jalapeño, Pickle Slices, Mayo, Mustard, 1000 Island
Add An Egg $1.50
Upgrades
Add $2.00
Stink Fries, Rosemary Garlic Fries, Jalapeño Fries, Sweet Potato Fries, Onion Rings, Hot Wing Fries
The Queen's Wicked Weenies
You've never seen a greater wiener! Thick, big, all beef!
Seafood & Fish
Tony's favorite! So good! Mussels, clams, big shrimp, calamari, sautéed in everything good! White wine, butter, garlic & the world's best marinara, then dumped over pasta. Served with just baked focaccia with freshly grated pecorino romano & cracked red pepper on the side.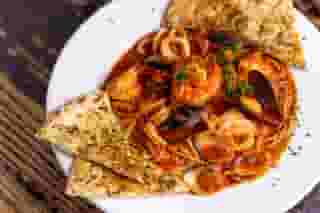 Dinners
Hand Crafted with Real Food. We Prepare Our Food from Scratch, Order by Order, That's Why It Takes Longer & Tastes Better!
Winner, Winner Chicken Dinners!
Crash & Burn Chili
Junkyard Chili Lovers Unite! If you dig this you could be in our cult. Freaky! try some JY kool-aid. 
Add On:
Onions - N/C | Cheddar - $1 | Sour Cream - $1.50 | Fried Jalapeno - $1

Note: This is not California style chili. In New Mexico, we call California style chili "spaghetti sauce". So... California chili lovers DO NOT ORDER THIS! Same goes for canned chili lovers! (Dente "No" More!)

Note: Everybody's buds are different. Some think our chili is too HOT, too SPICY some think it's not spicy enough. Our chili is made daily with four ingredients.
1. Ground Beef
2. Garlic
3 Pinto Beans
4. New Mex Red.
For The Kidlets
Under 10 Years Old - No "To Go"

Drinks: Milk, Chocolate Milk, or Apple Juice $1 Each
Kid's Soda: Coke, Sprite, Root Beer, Mr. Pibb, Diet Coke $1 Each (Free Refills)